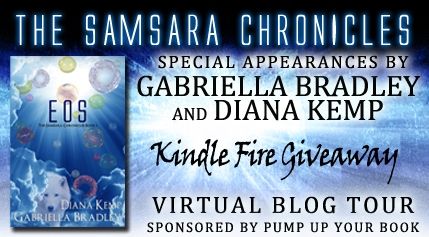 Join Gabriella Bradley and Diana Kemp as they tour the blogosphere June 1 – August 31 2012 with their The Samsara Chronicles series! Diana and Gabriella have agreed to give away not only a Kindle Fire but also a $50 Gift Certificate (payable by Paypal) to the person who comments the most on their 3 month blog tour. If there is a tie, the winner will be chosen through Random.org.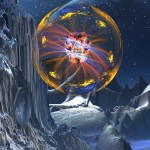 Certain that Shakan's banishment to the Overlap has forever ended the tainted bloodline of Jhanvar, Aislinn and Dylan prepare, with the help of Altithronus, emissary to the Antiquitas, for their journey to Klatria to rescue the royals.
TITLE: Nexus
ISBN: 978-1-77111-153-9
SERIES: The Samsara Chronicles Book 13
Purchase at Amazon:http://www.amazon.com/dp/B00866K848
ABOUT THE AUTHOR: DIANA KEMP…Toronto native Diana Kemp is a multiple award-winning screenwriter and author with one hundred and thirty film festivals and screenwriting competition awards/placings to her credit. She is the co-writer of an NRL (Naval Research Lab) documentary (http://www.nrl.navy.mil/media/videos/nrl-extended-video) produced by David Bellino of Second Wind Films.
Graduating with honors from Cal State Long Beach, she began a writing career at the age of seven that culminated in a diversely prolific collection of science fiction, horror and fantasy short stories, numerous short and feature screenplays and three science fiction novels, two of which include The Samsara Chronicles co authored with Gabriella Bradley.
In addition to serving as Executive Producer and Producer on a variety of projects with Michael Gianfriddo, her credits include Blink Black Ops (http://pro.imdb.com/title/tt2083939/) and her 3-D science fiction show, Trapezoid, (http://pro.imdb.com/title/tt2160425/), which is in pre-production.
Diana founded Shadowland Productions and Edge Media with producing partner Michael Gianfriddo and holds positions as CEO and Chairman in addition to serving as an executive for Dominant Entertainment. She oversees all development, production and management for each company.
She is represented by industry veteran Sherry Robb of the Robb Entertainment Group.
ABOUT THE AUTHOR: GABRIELLA BRADLEY…Gabriella Bradley lives amidst rugged mountains. She more than often has a grizzly in her backyard searching for food. Other critters that visit on a regular basis are cougars, coyotes, squirrels, and  raccoons.
She has been a writer all of her life, though only ventured into erotic works in 2003. The Samsara Chronicles was born through psychic channeling. Many of the scenes in these books were inspired by David—possibly a writer during his life, a guide from beyond that visited Gabby. During the course of his visits, he told her to involve Diana.
Gabby's hobbies include hiking, gardening, swimming, sewing, embroidery. Favorite movies are old timers like Gone with the Wind, Spartacus etc. Favorite music is Abba. Besides all that, she owns and directs a busy company and its staff.
FOLLOW GABBY… Blog | Facebook | Twitter
THE GIVEAWAY
Each person will enter this giveaway by liking, following, subscribing and tweeting about this giveaway through the Rafflecopter form below throughout the tour.  This Kindle Fire promotion will run from June 1 – August 31. The winner will be chosen randomly by Rafflecopter, contacted by email and announced on September 1, 2012. Visit each blog stop below to gain more entries as the Rafflecopter widget will be placed on each blog for the duration of the tour.