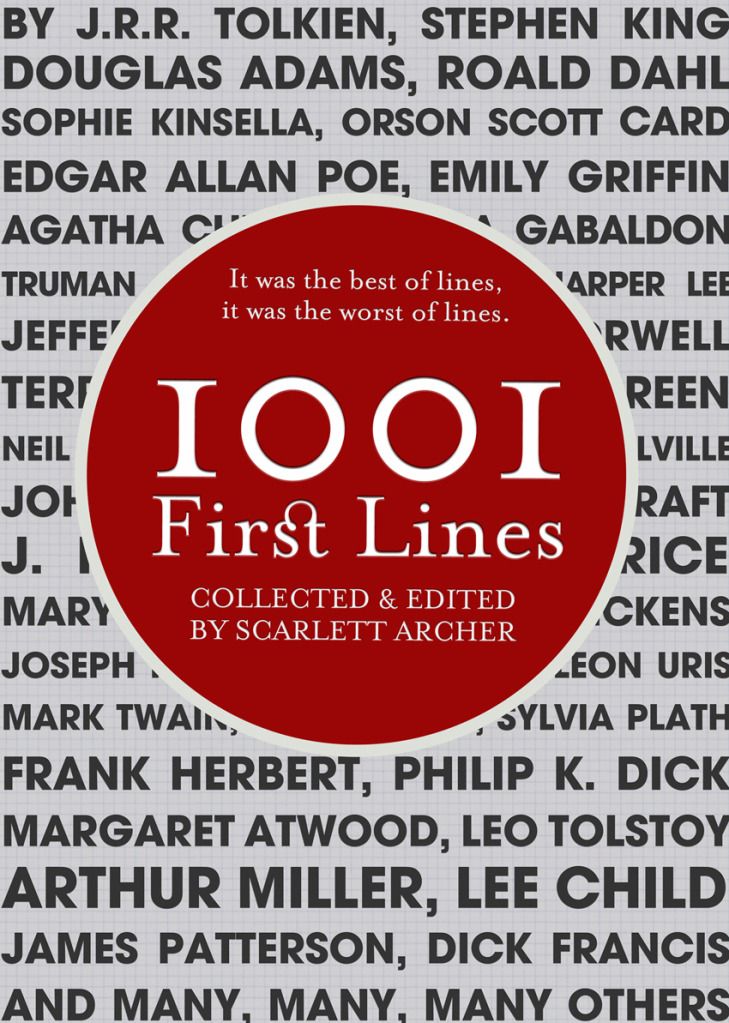 Have you ever wondered which novels contain the most famous opening lines? Or how the writers of Science Fiction compare to those of Romance? Now you can compare for yourself, with 1001 of the best and worst First Lines from fifteen genres.
1001 First Lines is for the writers and the readers of the world, providing inspiration and instruction. Purchasing the paperback gives you a checklist of titles to tick off as you go!
Paperback: 302 pages
Publisher: Scarlett Rugers (March 2, 2012)
Language: English
ISBN-10: 0987280104
ISBN-13: 978-0987280107
BUY THE BOOK… Amazon Paperback | Amazon Kindle | Smashwords
ABOUT THE AUTHOR…Scarlett Archer is an author and full time graphic designer based in Melbourne Australia. She has been writing for over fifteen years, completed over eleven novels, and her main drive is in speculative fiction or it's contrasting opposite romantic comedic novels. She has a passion for studying the art of story telling and is a grand lover of movies. Her focus in work is book cover designs which enables her to put all her energy in to the area she loves most- literature.
FOLLOW THE AUTHOR… Website | @scarandthetwit on Twitter | Facebook | 1001 First Lines Blog
FROM THE BOOK FAERY REVIEWS…1001 FIRST LINES is definitely not your typical book; fiction or non-fiction. It could be used a great book to find the next great novel based on the first line on the first page, it could be used like a book of quotes, and of course it could be used to just guess what would happen next or cringe from a bad line like a bad pickup line in a bar. If you enjoy looking for a interesting line first or not, you just might enjoy flipping through this book. Thankfully Archer breaks the book up into "chapters" to at least let you know what genre of book that line came from. When I think back on some of the lines that personally caught my attention, I've learned (or perhaps just reminded myself) that unless it had to do with murder, sex, or something rather sad, I easily passed over the sentence. Apparently, unless it's somewhat shocking to my mind, it bores me and I just move on. Something for authors to think about when it comes to writing their first lines? Perhaps…at least I'm hoping I'm not the only one who prefers to be shocked (the story has to be believable of course one way or another).
Here were some first lines that get the thumbs up from me for grabbing my attention…
My name is Gin, and I kill people. – SPIDER'S BITE by Jennifer Estep

How do you ask your best friend to f$*% your wife? – COMING CLEAN by Inez Kelley

In the tunnel where I was raped, a tunnel that was once an underground entry to an amphitheater, a place where actors burst forth from underneath the seats of a crowd, a girl had been murdered and dismembered. – LUCKY by Alice Sebold

It is so appropriate to color hope yellow, like that sun we seldom saw. – FLOWERS IN THE ATTIC by V.C. Andrews
And the ones that made me cringe, confused because I needed more, or it just outright bored me…
North Greenwhich. – BIRDMAN by Mo Hayder

Congratulations. – THE ANGEL EXPERIMENT by James Patterson

Rita Sterling was looking  out her bedroom window on this beautiful, bright, sunny Saturday morning. – LOVE OF A LIFETIME by Ida Plassay

Once upon a time… – THE ONION GIRL by Charles de Lint

We received a copy in exchange for an honest review as part of a Pump Up Your Book Tour.
No money was given and all opinions are our own.