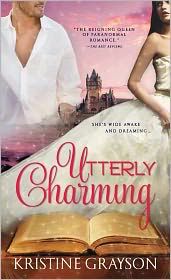 Bestselling author Kristine Grayson's fairy tale romances bring the classic stories into the present day, where fairy tale characters must grapple with the complexities of modern life as well as their own destinies.
This time when Sleeping Beauty wakes up, she wants nothing to do with the man who kissed her. Consoling Alex Blackstone, the rejected suitor who is a brilliant magician but inept when it comes to women, falls to modern career woman and lawyer, Nora Barr. Nora now has to deal with Beauty's evil stepmother, and the discovery that Alex just might be her own personal Prince Charming… – FROM BARNES & NOBLE
ISBN-13: 9781402248511
Publisher: Sourcebooks, Incorporated
Pages: 320
BUY THE BOOK… Barnes & Noble | Amazon
ABOUT THE AUTHOR…Kristine Grayson always wanted to be a romance writer when she grew up. She became one in the late 1990s with the publication of her first romance novel, Utterly Charming. Since then, she has published five more novels, including Absolutely Captivated and Totally Spellbound.
Her work has won the Romantic Times Reviewers Choice Award, and she has been nominated for several other awards. Publishers Weekly has called her work "a delight," and Best Reviews labeled her "the reigning queen of paranormal romance."
FROM AMY, A TBFR REVIEWER…I have to say I liked this book. Nora who is a lawyer and not sure if her practice will make it to next month. Along come Alex Blackstone requesting her assistance when it comes to Sleeping Beauty, the woman who he thinks is his soul mate. Nora is reluctant to take his case. Circumstances have Nora as Alex's lawyer and money to help keep the firm afloat. The problem now is that Nora is becoming attracted to Blackstone and he tries to convince his self that he is Sleeping Beauty's soul mate even though he wants Nora.
What I didn't like was that even though Nora and Alex end up together, there wasn't quite as much romance between the two as I would have wished. I wish that there was more to this couple than just a few stolen kisses.
What I liked about this book was Sancho. I found him funny and at some points I felt like he stole the show. Emma is a good character too. I just feel bad that she got thrust into this time after a 1000 years of slumber.
I would recommend this book. I just wish there was more romance since it is a romance book. It was still entertaining though. Good read to curl up on the couch with.
MY BOOK [RATING: 3:4]
Be sure to read the review to Wickedly Charming and check out Kristine Grayson's interview with The Book Faery Reviews.
MEET THE REVIEWER…My name is Amy. I have enjoyed reading since I was a kid. My favorite genres are Paranormal Romance, Urban Fantasy and Contemporary Romance. I recently began reading a few Historical Romances. I am usually found with a book in hand. When I am not reading I am playing with my nephews and my dog Lanie.
Some of my favorite authors are JR Ward, Sherrilyn Kenyon, Rachel Gibson, Shannon K. Butcher, Erin McCarthy, Lara Adrian, Janet Evanovich and the list could go on.
I don't watch a lot of TV but when I do I am usually watching True Blood, Vampire Diaries, Ringer or The Soup (I love that show).
I enjoy writing reviews because I like having my opinion out there too.