Before we get into Deanna Raybourn's interview I'd like to first give a background to how I got around to getting an exclusive interview with the author.
You see, I have this crazy cousin whom I've recently been reconnected with (gotta love Facebook). She loves reading as much as I do and she also happens to be a book seller. Remind me dear cuz to tell you all about my book store dream since I know you're reading this.
One day last week we were discussing books and I told her to pick any author she wished to get an exclusive interview with. Mind you, at this time, I was just trying to impress her (don't ask…lol), but inside I started to panic when she took me up on my offer because authors usually come to me or a tour coordinator coordinates an interview with me, therefore, I've NEVER approached an author before. Like I said, she took my challenge and within minutes she told me about Deanna Raybourn and how much she worshiped her and thought her to be a literary Goddess.
I did some research and hit Deanna up with an e-mail begging her to help me out in fear that my psychotic cousin might twist my arm off until she agreed to an interview here at The Book Faery Reviews. I figured that if I mentioned that torture would be involved surely she'd have no choice but to agree. In addition, I posted a book trailer with another plea to the author in hopes that she'd respond back to me.
And she did. Within an hour or two she agreed to save me from my cousin's wrath if I didn't deliver.
As soon as I sent dear deranged cousin (Paige, I love you!) the news, within FIVE MINUTES she had her questions (all.thirteen). Geez…seriously. Does my cousin carry around questions in the back of her pocket in hopes of one day interviewing one of her favorites?! Still, you gotta love her!
Because this exclusive interview did so well, I think I'm going to offer the challenge to more of the readers from The Book Faery Reviews. Let them pick a favorite author to interview and give THEM the opportunity to ask their questions.
INTRO TO RAYBOURN'S LADY JULIA GREY SERIES FROM CRAZY COUSIN…Well, the first book begins- and I can quote this from memory: "To say that I met Nicholas Brisbane over my husband's dead body is not entirely accurate.  Edward, it should be noted, was still twitching upon the floor."  HA!  I was hooked!
Basically I'd say the series is 80% mystery and 20% romance, with a dash of Gypsy magic tossed in. It follows the adventures of Lady Julia Grey- obviously widowed in the first book- and private investigator Nicholas Brisbane (yum). Basically, Julia is the weird one in her family because she is normal. Her maiden name was March- and they are known for doing crazy things like ride down the street naked on a horse or marry a footman. Julia is a mouse of a lady when the series begins, but she quickly begins to come out of her shell.
The series is well researched, funny (and witty), suspenseful and at times- romantic. The series is very character driven; Deanna really creates characters who you care about and you root for. And they'll make you laugh- oh how you'll laugh- which in my book is about as good as you can get.
Anyhoo…now on to Deanna's exclusive interview at The Book Faery Reviews. Oh and Deanna? Thank you SO MUCH AGAIN for saving me.
Crazy Cousin via The Book Faery Reviews: Did the idea for Julia Grey come bursting into your mind all at once in a loud frenzy, or did she slip in quietly and lady like, gently encouraging you to write her story?
Deanna Rayburn: The story came together very quickly once I made up my mind that I wanted to write a nineteenth-century book about a poisoning. I had the crime, I had the sleuth, I had the killer, I had the victim. My biggest stumbling block was the setting itself! I initially planned it to be set in 1816, but I was about fifty pages in when I realized that wouldn't work because the time period was just off. It needed dark and atmospheric gaslit streets, not the England of Jane Austen. So I reset the book in 1886 and it worked perfectly. And if you've read Julia, you know there's nothing particularly quiet about her…
TBFR: The first time many people read your books, they assume you are British because as they tell me "you write British"…have you always been interested in British culture and history? Or did the interest start after Julia came to life?
DR: My father is a first-generation American—his mother is English—so I come by the Anglophilia honestly. I always read English books as a child and watched English television shows, soit was very easy for me to slip in to the syntax when I started writing a first-person English narrator. One of the greatest compliments I've ever received is when I met the editor in my publisher's London officeand he was shocked I was American! I think it takes a great deal of immersion to grasp the differences between American English and British English, largely because they are so subtle that you can pass rightby them without them registering. It's something I still work on because it's never going to be perfect, butI'm going to make it better every chance I get.
TBFR: Portia is one of my favorite characters ( as was Jane- sniff). Her loyalty, intelligence class and humor make her a lovable character to the reader. Did you decide she was going to be gay or did she tell you? Did you find it a challenge to write a character during that time period who was gay, seeing as it was not an open or accepted state of being in the 1880s? (Especially in London.)
DR: Portia is one of my favorites too. She was initially intended to be in the first book only, but she was such a great foil to Julia that I endedup putting her into every book. She's just great fun to write. I deliberately made her a lesbian because Ihad a few rather unsavory gay male characters and I wanted a balance for that. I have several friendswho are tremendously important to me and happen to be gay; I didn't want anyone to be able to seize onthe unpleasant homosexual characters I had written and use them for some sort of agenda, so the most logical solution was to present the other side and have a lovely character who happened to be lesbian as well. But Portia is not quite so much out of step with her times as people might sometimes think. There were Victorian lesbians—and even a lesbian commune with its own newspaper in London in the nineteenth century! Their relationships might have been discreet, but they were certainly part of English society.
TBFR: Did you always intend Brisbane as a romantic interest for Julia or did you find that once you started writing the book, they were naturally drawn to each other?
DR: Brisbane was always intended to be her other half. I deliberately left the first book hanging a bit in order to accommodate a series, but there was never aquestion in my mind that they would end up together.
TBFR: I find the Roma culture and history to be endlessly fascinating- do you intend to let that part of Brisbane's life expand in future novels so we can learn more, or do you feel it's best left as a side story?
DR: Brisbane's past is coming out in bits and pieces through the books. It's more enjoyable that way, I think,rather than getting it all at once. It's also a necessity because I have never sat down and written a full back story for him. I knew parts of it, but the rest is coming out as I go along. The funny thing is that the details that are coming out in later books are popping out of my subconscious and fit perfectly into placesI didn't realize I was preparing in the earlier books. Serendipity…
TBFR: How long does it typically take for you to research your books?
DR: The first book took quite awhile—two years to research and read—but much of that was because I started it just as the internet was really taking off as a place to find information. Now I can do it in a fraction of the time because it's so much easier to track down out of print research materials or check a fact. It's difficult to say exactly how long each one takes because I tend to write about things I was already interested in and had been reading about. It also makes a difference if I'm writing a Victorian book because I have half a million words' worth of experience writing about it now so I tend to be pretty comfortable!
TBFR: Was writing "The Dead Travel Fast" a different experience for you as a writer, because it was a departure from Julia? Do you relate to different books in different ways?
DR: The Dead Travel Fast was the most difficult book I've written. I wrote the first version and my editor asked for changes; I ended up keeping only twenty pages out of five hundred! So I essentially wrote it twice in a very short period of time. It was a mammoth undertaking and absolutely pushed me to my limit as a writer. But the book was better for it, and even though it was pure pain at the time, the book has actually been nominated for two awards, and those nominations probably mean more to me than any others because they were so hard-won. I went through a phase where I didn't want to think about that book at all, but now it's become an example to me that whatever challenge I'm up against I can take it on.
TBFR: Can we expect more stand alone novels in the future?
DR: Absolutely! In fact, my publisher and I are chatting now about the next book–another departure from the series. It's very important to my editor that I get regular breaks from the series because any series, no matter how much you love it, is going to provide you with constraints. It's good to get out of your comfort zone and be challenged to do something new. I think complacency is poison to creativity.
TBFR: As you grow as a writer and a celebrity, are you finding it to be an adjustment to deal with the publicity?(i.e.- crazy booksellers stalking you in Facebook?)
DR: It's a difficult juggling act for writers sometimes because the skill set needed to be a writer is completely different from the skill set needed to be an author. One is quiet and introspective and requires solitude; the other demands that you put yourself out there and be sociable and comfortable with public attention. I'm very fortunate in that the public side of things doesn't bother me at all—in fact, I love chatting with readers and getting to meet them, both in person and online! It's a nice balance to all the time I spend in my tiny pink study with the cursor blinking at me. I also draw boundaries between what is public and what is private, and I am very quick to enforce them if I have to. For instance, I discuss my family sometimes on my blog, but I don't actually ever use their names—except the dog. He has quite a following on Facebook.
TBFR: Is there any of your personality in any of your characters, or do you keep them totally separate from you as a person. (I find that many authors feel there is always a bit of them in the characters they write.)
DR: People who read Julia Grey always point out that she is me, albeit with a title and a fortune! We do have a very similar point of view and similar values, but she is also just a part of who I am and she has some qualities that are uniquely her own. I, for instance, have never felt compelled to sleuth out a murderer…
TBFR: Why historical fiction? What is it that draws you to the past?
DR: I think it has to do with the old adage that familiarity breeds contempt. I am too familiar with today, and I like to romanticize the past. I like the differences in manners and customs, in ways of dress and organizing one's affairs, although in fact I usually go looking for the things that have remained the same, the ways we connect to people who lived centuries ago. Strip away the clothes and the other trappings and we are pretty much the same as we ever were.
TBFR: What does your family think of your success? Do they contribute to your pool of ideas?
DR: There is absolutely no way I could have done any of this without my family. My parents were always hugely supportive of my intention to become a writer and encouraged me when I said I was majoring in history and English. And my husband has been my biggest champion—whenever I moaned about the lack of money and said I needed to go and get a job his response was always, "You have a job. You're a writer. You're just not published yet." He said that for fourteen years until I finally got a publishing contract! My mother proofreads all of my books as they're written; my father and daughter provide endless encouragement and cups of tea and errand-running. It might take a village to raise a child, but it really takes one to make a writer.
TBFR: What is one question you always wish an interviewer would ask you but never does? And what is the answer?
DR: No one ever asks about my favorite college football team. Hook 'em, 'Horns!
ABOUT THE AUTHOR AND HER LATEST BOOK…A sixth-generation native Texan, Deanna Raybourn grew up in San Antonio, where she met her college sweetheart. She married him on her graduation day and went on to teach high school English and history. During summer vacation at the age of twenty-three, she wrote her first novel. After three years as a teacher, Deanna left education to have a baby and pursue writing full-time.
Fourteen years and many, many rejections after her first novel, she signed two three-book deals with MIRA Books.
"Sex, lies and awesome clothing descriptions" is how one reader described Deanna's debut novel, Silent in the Grave, published in January 2007. The first in the Silent series, the book follows Lady Julia Grey as she investigates the mysterious death of her husband with the help of the enigmatic private inquiry agent Nicholas Brisbane. From the drawing rooms of the aristocracy to a Gypsy camp on Hampstead Heath, Silent in the Grave deftly captures the lush ambience of Victorian London.
The series continues with the second book, Silent in the Sanctuary (January 2008), a classic English country house murder mystery with a few twists and turns for Brisbane and Lady Julia along the way. Silent on the Moor (March 2009), set in a grim manor house on the Yorkshire moors, is the third adventure for Lady Julia and the mysterious Brisbane.
March 2010 saw a departure from the series with the release of The Dead Travel Fast, a mid-Victorian Gothic thriller that chronicles the adventures of novelist Theodora Lestrange as she leaves the safety and security of her Edinburgh home for the dark woods and haunted castles of Transylvania. Deanna turned once more to Lady Julia and her companions with Dark Road to Darjeeling (October 2010). With an exotic setting in the foothills of the Himalayas and theintroduction of an arch-villain, Dark Road to Darjeeling is the most thrilling installment yet.The fifth book in the series, The Dark Enquiry, sees the return of Lady Julia and Brisbane toLondon for their most puzzling adventure and will be available in stores in June 2011.
Deanna plots her books from her home in Virginia. After one too many hot Texas summers, Deanna and her husband packed up their daughter and moved to the mid-Atlantic state, where they enjoy the fall leaves but deeply miss good Tex-Mex cooking.
Still Virginia has been good to this author. Deanna's novel Silent in the Grave won the 2008 RITA® Award for Novel with Strong Romantic Elements and the Romantic Times Reviewers' Choice Award for Best First Mystery. The Lady Julia Grey series has been nominated for several other awards, including an Agatha, three Daphne du Mauriers, a Last Laugh, two more RITAs, and two Dilys Winns. Her latest novel, Dark Road to Darjeeling, was a finalist for the Romantic Times Reviewers' Choice Award for Best Historical Mystery and has also been nominated for a RITA.
You can find her blogging five days a week at www.deannaraybourn.com/blog, and be sure to sign up for her newsletter, check out her contests and book trailer videos, and catch her latest appearances at www.deannaraybourn.com.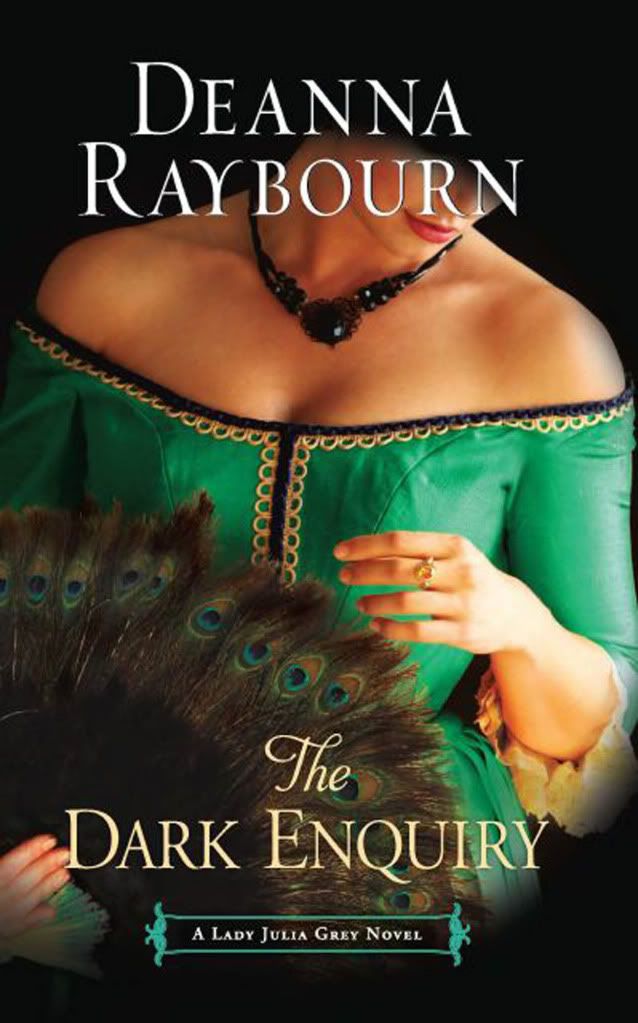 THE DARK ENQUIRY…Partners now in marriage and in trade, Lady Julia and Nicholas Brisbane have finally returned from abroad to set up housekeeping in London. But merging their respective collections of gadgets, pets and servants leaves little room for the harried newlyweds themselves, let alone Brisbane's private enquiry business.
Among the more unlikely clients: Julia's very proper brother, Lord Bellmont, who swears Brisbane to secrecy about his case. Not about to be left out of anything concerning her beloved—if eccentric—family, spirited Julia soon picks up the trail of the investigation.
It leads to the exclusive Ghost Club, where the alluring Madame Séraphine holds evening séances…and not a few powerful gentlemen in thrall. From this eerie enclave unfolds a lurid tangle of dark deeds, whose tendrils crush reputations and throttle trust.
Shocked to find their investigation spun into salacious newspaper headlines, bristling at the tension it causes between them, the Brisbanes find they must unite or fall. For Bellmont's sake and more they'll face myriad dangers born of dark secrets, the kind men kill to keep….
Pub. Date: June 2011
Publisher: Mira
Format: Paperback , 400pp
BUY THE BOOK…AMAZON | BARNES & NOBLE (I am a B&N Affiliate.)