When we talk about Autism, there are tons of questions.
Is Autism really that bad?
What are the symptoms?
How are people diagnosed with Autism?
Is Autism a life changing diagnosis?
No matter what the question, there are some definite facts; almost 1 in 110 children are diagnosed with Autism. Some cases of Autism are severe, whereas others are less severe.
There are some good qualities that autistic individuals have, they are many times very artistic and intelligent and many have a knack of mathematics. Being diagnosed with Autism for many parents may seem like a God send, it means that there is finally a name for what's been going on with their child or children.
I myself work with Autistic children on a daily basis in my office in New York City,  and I know from experience that individuals with autism  can be a tremendous people. Don't get me wrong, autism can manifest itself in many ways, and although I have a fairly positive outlook not everyone feels the same way that I do.
Ultimately, we should understand that autism can be treated, but not cured. Some popular forms of treatment are ABA (Applied Behavioral Analysis), Floortime and Verbal Therapy. Many of these therapies are geared towards helping develop social and emotional skills for these children and can be tremendously helpful. One thing I want to stress as heavily as possible is that autism treatment and diagnosis will change the lives of everyone in the family. In order to see real improvement you should not limit that child's/person therapies to only the therapists office, you should implement the therapies and suggestions given by the therapist to the best of your abilities in the home so that they aren't forgotten. The goal is to turn the therapy(ies) into routine activities.
One website that I personally use is the www.autismspeaks.org website. They have tons of information about different therapies, autism insurance acceptance and more. Autism Speaks stands alone in terms of online resources, but when looking for an offline resource like a therapist, or advocate to work with you to help your child receive the services he/she needs, you should consider several thinks like how much you like the person, their credentials and licensing and how helpful you feel they would be to your family. If you are considering working with your child yourself, you may want to look into becoming certified or licensed in one of the therapies that are geared towards assisting autistic children (some of the therapies allow parents to become licensed or certified).
Other resources that you may find helpful are books. When I wrote my book "Is My Kid Stupid? Avoiding an Educational Disaster", I was sure to list many tips and tricks to help you get the most out of your child's education including free resources, information for free private school tuition paid for by the state and information of how to advocate for your child. Many other authors and practitioners will offer up advice and explain what autism is and give their own theories on what causes autism (I say theories because no one really knows for sure).
Nevertheless, you should arm yourself with as much information as possible, and seek the assistance of a qualified professional if you are unsure about something.
Happy National Autism Month!
Nzingha West
ABOUT THE AUTHOR…Nzingha West, the author of Is My Kid Stupid Avoiding an Educational Disaster has worked in education for 10 years. Nzingha owns and operates Urbane Academics where she provides special education advocacy services, educational evaluations and private and small group instruction. Nzingha has worked with the American Museum of Natural History, Harlem Children's Zone, University Settlement and the City College of New York among others. Nzingha firmly believes in the fair education of all children, and continues to work with children all over the United States. Nzingha currently lives and works in New York City.
Follow her and Urbane Academics on Twitter and on Facebook.
<><><><><><><><><><><><><><><><><><><><>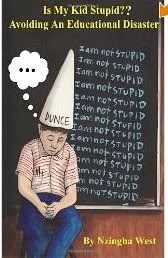 Is My Kid Stupid? was written to fill a need for all parents of children who are struggling in school, or who have been diagnosed with learning disabilities. Is My Kid Stupid? Addresses concerns like: • How to get a free private school education for your child • How to choose a practitioner for your child • How to choose the best advocate for your child, or how to advocate for your child yourself • Special education laws and how you can make the most of them • How to significantly lower the cost of college for your child Is My Kid Stupid? also offers letter templates, and additional websites that may be helpful during your search.
Paperback: 124 pages
Publisher: Amazon.com (March 7, 2011)
Language: English
FROM THE BOOK FAERY REVIEWS…As a parent of a child with a learning disability, this was a book I was looking forward to reading and hopefully utilize to help my son as he learns. Though he's improving everyday in his skills thanks to the special program he's in at school, our vision doctor (We tossed our old pediatric neurologist to the side who said he had torretz and put him on LOTS of meds. We ditched the drugs and replaced him with a chiropractor and he's MUCH better with the body ticks, in fact they're near non-existent), and the work we do at home, there's always this need as a parent to keep looking for better ways to make learning easier and more fun for them.
Is My Kid Stupid is broken out into 16 VERY SHORT chapters with questions for the reader at the end of each. At the end of the book West also includes a resource section with links to multiple sites that readers might find useful. The author prefaces the book  with a statement that she wanted "to get right down to business and give you the tools to get what your child needs". That she did. The book is not meant to diagnose but to help you understand what you should be doing and how to get the best education for a child with learning disabilities. She offers tips throughout the book of what to do and what not to do.
As a parent and not an educator, I personally found Is My Kid Stupid to be resourceful and as I switch my son from his current school to his new one in the fall, I will be better informed on how to go about getting him new assistance within and out of the school system. There were many things I hadn't realized I was doing that could essentially hurt his learning process and those are now on my radar. Though my son's disability are not included in this book (he has a reading disability due to no eye focus in one of his eyes thus making reading very difficult and words to be jumbled or blurred even with the highest prescription strength), the tips and suggestions were still very helpful. For my friends who have children or know a child with a learning disability, I will be recommending it.
My Book [Rating: 3/4]