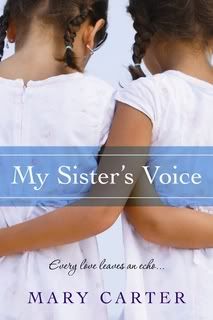 TITLE: My Sister's Voice
AUTHOR: Mary Carter
PUBLISHER:  Kensington
PUBLICATION DATE: May 25, 2010
PAPERBACK PAGES: 352
GENRE: Women's Fiction
A proudly deaf artist in Philadelphia, Lacey Gears is in a relationship with a wonderful man and rarely thinks about her childhood in a home for disabled orphans. That is, until Lacey receives a letter that begins, 'You have a sister. A twin to be exact'. Learning that her identical, hearing twin, Monica, experienced the normal childhood she was denied resurrects all of Lacey's grief, and she angrily sets out to find Monica and her parents. But the truth is far from simple. And for every one of Lacey's questions that's answered, others are raised, more baffling and profound. "My Sister's Voice" is a beautifully written novel about sisterhood, love, and the stories we cling to until real life comes crashing in.
AUTHOR GUEST POST…Five things I learned while writing "My Sister's Voice"
1. Character's are what happen when the writer is busy making other plans
Like all my novels, "My Sister's Voice" went through several drafts.  The old adage, "Writing is re-writing" is one I live by.  There were several major changes from one draft to the next.  Some were brought about because of an editorial suggestion or decision, and some were realized as character's deepened and took on a life of their own.  Even when you have a character sketch or an outline, it takes awhile to get to know who your character's are, and if you're lucky, they'll speak to you as you write.  I've heard stories of actors who are in a television series saying to the writer—"My character wouldn't say that".  That's because over time the actor gets to know their character inside and out.  A first draft is like a rough sketch.  But by the time you've written three or four drafts your characters are more fleshed out; they become real human beings.  By then, something you had them saying or doing in the first draft may no longer ring true.  I love it when I get to know my characters well enough to realize instinctually what they would say or do.  It often feels as if they're telling you what to do, but I'm not complaining, it makes writing much easier when your characters are "bossy"!
2.  Agents, editors, and writers groups, can disagree
I was taking a writing class when I started work on "My Sister's Voice".  I think classes are great, even for published writers, maybe even especially for published writers, because you never stop learning.  I also love meeting new people, being part of a group, and listening to feedback.  On the first go-round of "My Sister's Voice", I opened with a scene at a funeral.  My writing class loved it.  My editor said it was too much and told me to scrap my first three chapters and start over. Eek!  I wanted to tell him how much my writer's group loved those chapters, but I put my ego aside and started over.  In the end, I agree with my editor, although fun to write, the original scenes were a little too much.  It's all a process. And then, in the end, my agent had feedback that my editor didn't quite agree with.  These are all writers, informed readers, and professionals.  The point is, you can have ten people in a room and all ten people might disagree.  Writing is a process, and it's also subjective.  Although praise is great, and criticism can sting, it's important to trust in your work, and realize that you can't please everyone.  On the other hand, it's vital that you're open to feedback, it's the only way to get out of your comfort zone and step up your game.
3.  A real life case of twins raised apart and meeting for the first time as adults was happening as I was writing my fictional account—and they wrote a book about it!
The book is called "Identical Strangers", A Memoir of Twins Separated and Reunited by Elyse Schein and Paula Bernstein.  At first, I was worried people would think I took their real life story and turned it into fiction.  In reality, the outline for my novel was submitted way before I knew about the existence of the book.  It was a good read though, and it just confirmed how fascinated I was with the subject of twins being separated.  I love all the stories I've read about twins raised apart having eerie similarities, including marrying women with the same names, living within 7 miles from each other, having similar jobs, etc.  I love it.  Nature versus nurture—never a boring discussion.
4.  Philadelphia is a cool city
I had never been to Philadelphia before writing this book, even though I'm a short train ride away here in New York City.  I loved Philly—the history, the bohemian feel, and of course, the cheese steaks!
5.  Writing is easier when you use "what you know"
I did not have to research Deafness, American Sign Language, or interpreting.  While I'm not an expert on any of the above, I am a certified American Sign Language interpreter, and I've been working in the Deaf Community for the past twelve years.  I also grew up with a cousin who is Deaf and was married to a Deaf woman.  Although I only saw him once in awhile, my sister and I learned a little bit of sign language as kids and would sign with him and his wife whenever we saw them.  It was the start of my love affair with sign language, but especially with Deaf people who are just down right cool, and often misrepresented in books and movies.  That said, the book is fiction and I do not speak for any individual or community in real life.  Deaf people are as varied as hearing people, and so are their opinions, practices, and beliefs!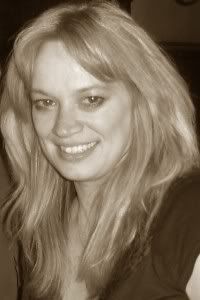 ABOUT THE AUTHOR…MARY CARTER is a freelance writer and novelist.  My Sister's Voice is her fourth novel with Kensington. Her other works include:  She'll Take It, Accidentally Engaged, Sunnyside Blues, and The Honeymoon House in the best selling anthology Almost Home. She is a graduate of the American Academy of Dramatic Arts, and the National Technical Institute for the Deaf, which is part of the Rochester Institute of Technology. She has just completed A Very Maui Christmas, a new novella for Kensington that will be included in a Christmas of 2010 anthology. She is currently working on a new novel, The Pub Across the Pond, about an American woman who swears off all Irish men only to learn she's won a pub in Ireland. Readers are welcome to visit her at http://marycarterbooks.com.